In this issue:
New Hire at Corporate
What have the Branches been up to?
Branch Pursuits
Do you want to win Collins Cash?
Gene's Gems
Weekly Inspiration
It's Collins Selfies

---
NEW HIRE AT CORPORATE
There is a new face in the Accounting Department and her name is Rachael Rodriguez. She started this month as the new Branch Accounting Coordinator. Her current duties include accounts payable for the Fresno and Marina branches.
Rachael has an Associate's Degree in accounting and over 20 years of accounting experience. She is a born and raised Stocktonian who has three girls, Marissa (27), Arieanna (22) & Lilia (13). You would never believe it but she is also a grandma to grandson, Devin (9). In addition important members of her family include her pitbull, Winston and cats, Molly and Nala. Rachael's girls are her best friends and she enjoys hanging out with them, shopping for shoes, baking, playing dominos, and watching her favorite channel, Investigation Discovery. She enjoys history and one day hopes to visit the Roman Colosseum.
Can you guess who her celebrity look alike is?
Welcome to the Collins Family, Rachael!
---
WHAT HAVE THE BRANCHES BEEN UP TO?
WEST SACRAMENTO BRANCH:
Team Building at the Sacramento Rivercats game
The game was against the Colorado Springs Sky Sox and although the River Cats lost the game, the employees had a great time and enjoyed perfect baseball weather.
There were employees from both the office and the field in attendance. The Sacramento branch reserved a suite at the game with seating for 20, along with other seats throughout the park.
From left: Kevin Gini, Andrea Gini, Kevin Farnum and his wife Bianca, Robert Saragoza (Maria's husband), Marcel (Juaquina's son), Lori Holman, Juaquina Guerra, Marc Muzzo, Corey Plaster, Tresa Puryear, her son and his friends.
Top row: (L-R) Kevin Farnum and his wife Bianca, Lisa MacDonald (Lori's friend) & Lori Holman. Middle row: Tresa Puryear, her son and his friend. Bottom row: Deanna Vogan (Adam's girlfriend), Adam Wasche, Drew King and Anthony Eldred.
Jobs currently in progress:
CORPORATE/METRO BRANCH:
2018 Health Fair
Thank you to all participated in the bio-metric screenings and thank you to all the vendors. American Heart Association, Blue Shield, Clinical Health Appraisals, Family Chiropractic Wellness Center, Fleet Feet Sports, Heritage Eye, Skin & Laser, Hills Physicians Medical Group, In- Shape, Kaiser, Prime Nutrition, Sun Life, USI, VSP & ZYIA Activewear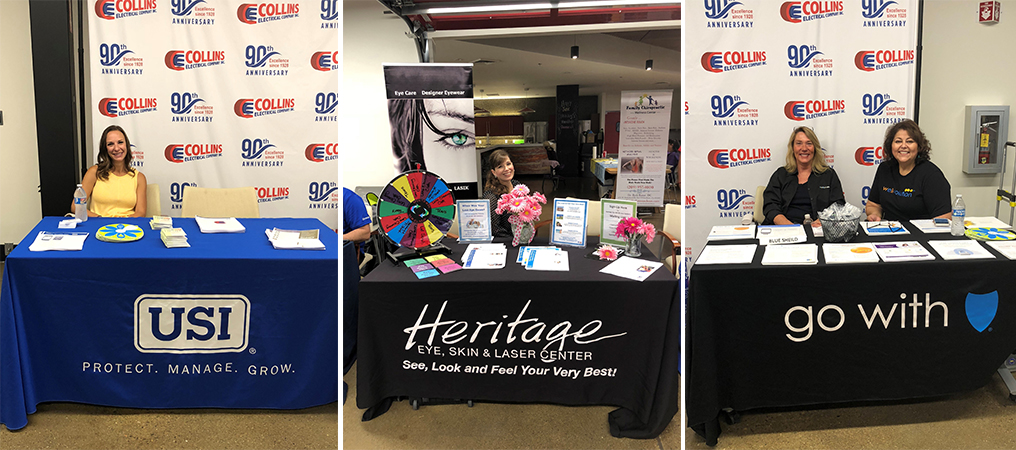 Special thanks to Charles Jenkins, IT Network Administrator & Krish Prasad, IT Helpdesk Technician for hosting the first Outlook Lunch & Learn training. This series will feature the main components of the Office 365 Suite, highlighting new features & functionality.
KAT Country 103 Listener Appreciation Concert
The Metro Branch recently sponsored a phone charging station booth for all the KAT Country 103 Listener Appreciation Concert. It was a great day of team bonding for employees and we all enjoyed hearing from the community about how they loved the new lights on the building.
ALL BRANCHES:
"Cumulative Impact on Change Orders" Class with Dr. Awad Hanna
This one day seminar was focused on three areas. First, proper management of change orders which involves setting up mechanisms to handle the change orders as they occur on the project. Proper management attempts to preempt later disagreements. Second, legal considerations involve prior case studies and acceptable theories of recovery. The third area of focus in this seminar is how to quantify loss of labor efficiency and price change order including forward pricing.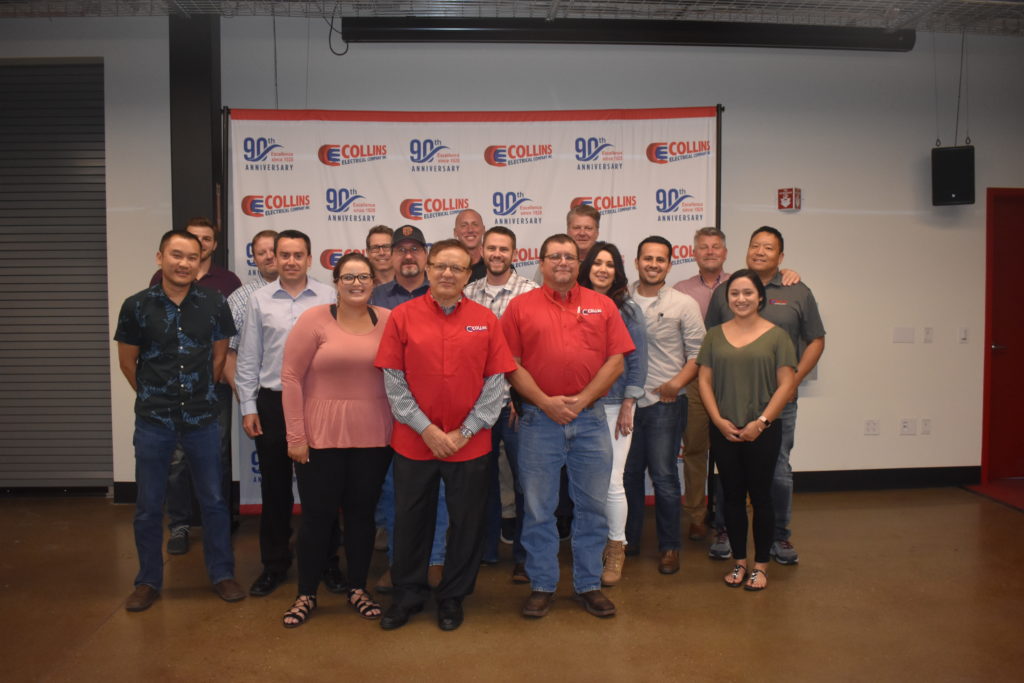 FRESNO BRANCH:
Just completed! – EL TEJON ELEMENTARY – Foreman- Bryan Hard.
This was Bryan's first main project he has run and he did such an incredible job that he received a rave review from the Principal of El Tejon, Elementary, Alfonso Gamino. Read the review below. Now, he is moving on to start a new project at the Fresno Chaffee Zoo. Great job Bryan! Keep up the good work!
DUBLIN BRANCH:
Check out the progress below at 100 Clay Street, a 16 story high end apartment complex in Downtown Oakland scheduled to be completed by April 2020.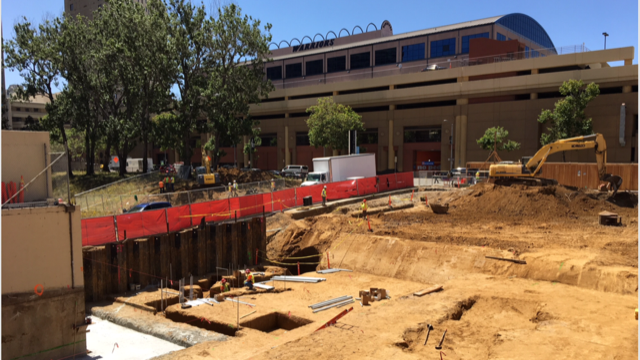 ---
BRANCH PURSUITS
Sacramento Branch Bid Schedule:

---
DO YOU WANT TO WIN COLLINS CASH???
We are looking for authentic reviews to be added to our Glassdoor Profile. Please visit https://www.glassdoor.com/Overview/Working-at-Collins-Electrical-Company-EI_IE837178.11,37.htm to leave a review. Once you have completed your review email vnavarro@collinselectric.com to be entered into the drawing. Deadline to enter is 7/9/18. We will have three winners. $50, $25, & $15 Collins Cash pulled at random. Check out our new 90th Anniversary T-shirt on the Collins Appreciation Program online store. Available now!
---
♢♢♢ GENE'S GEMS ♢♢♢
Core Value of the Week: RELIABLE
---
WEEKLY INSPIRATION
Stop by the service department at the Metro Branch and find some weekly inspiration.
Justin Barrington, Service Manager recently made Gaby Addi, Service Administrator and Lea Rummel, Service Coordinator memo boards for their birthdays made out of old pallets. The Metro service department got together and decided they will update the memo board on a weekly basis to spread some encouraging words to the office.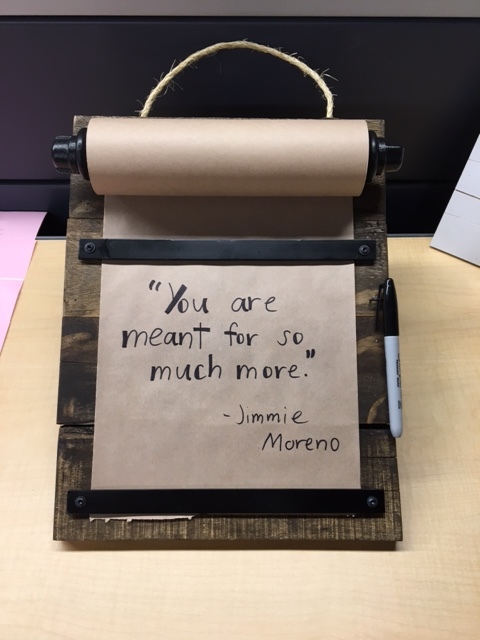 ---
COLLINS SELFIES
Even though we work hard, we play hard too. Every week, we'll show off our most important resource: the Collins Electrical staff.
This week, we introduce to you…HAROLD YELEY, PreFab Manager and TICKER from the American Heart Association. To sign up for a team or donate to the 2018 Heart and Stroke Walk click the button below. Thank you to all who have already donated.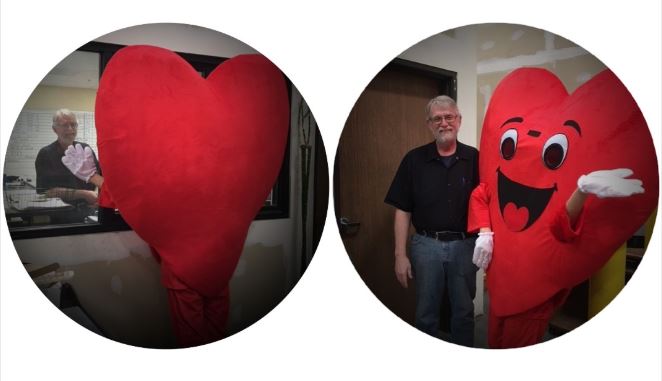 DON'T FORGET TO SEND IN YOUR SELFIES!
Check out all the Collins' Selfies by searching for the hashtag #collinsselfie on Facebook.
Do you have a #collinsselfie to share? Post them to our page using the hashtag #collinsselfie , text Melissa at 209.485.0150, or email Melissa at MFlores@collinselectric.com
Make sure to incorporate the Collins Electrical logo in a creative and fun way!
FOLLOW US ON FACEBOOK @ COLLINS ELECTRICAL COMPANY, INC. & INSTAGRAM @ COLLINS.ELECTRICAL