In this issue:
Memorial Day – Remembering those who served
Year-to-Date Safety Performance
Welcome Harper Jane
Length of Service Awards
It's Collins' Selfies!
---
Memorial Day: Remembering those who served
Over 35 million Americans have served in World War I, World War II, Korea, Vietnam, the Persian Gulf, Afghanistan, Iraq, and unnamed military engagements. More than half a million of them gave their lives in the cause of freedom.
Many of our Collins Electrical employees have family members in military service. Many more are veterans themselves.
The reason we commemorate Memorial Day is found within our own Declaration of Independence — "life, liberty, and the pursuit of happiness."
Surely there is no more fitting way to honor those who gave their lives in service to their country than to celebrate the very qualities for which they died: life in all its richness, liberty to discover all that life offers, and the pursuit of happiness through community, family, prosperity, opportunity, freedom, equality, and safety.
Collins is Proud of the American Flag and What it Stands For
Last year during Flag Day, Collins Electrical Company, Inc. hosted a ceremony at the Corporate Office to commemorate Flag Day and to honor our Veterans and those on active duty.
Mike Anderson Sr., the father fallen soldier Cpl. Michael Anderson Jr. and recipient of the first California Gold Star License Plate said a few words and raised the American Flag on Collins Electrical Company's newly constructed 60-foot flag pole visible on Highway 99, north of the Arch Road exit.
In addition to the flag raising ceremony, the day also included a special salute honoring our fallen soldiers. The event attracted over 200 attendees including KWIN's Amanda King & Lucas, representatives of U.S. Congressman Jeff Denham, representatives of State Assembly member Susan Eggman, as well as Collins Electrical staff.
"The American flag stands as a symbol of freedom, hope, and democracy," President and CEO of Collins Electrical, Gene Gini said. "We are proud to be Americans and fly the American flag to honor these ideals and those who have risked their lives for our Country"
Prior to the pole being erected, Collins Electrical employees had an opportunity to write the names of loved ones who have served our country. Employees who are veterans were also asked to sign the pole. Check out the video below to see how many people in the Collins family have served.
The Veteran 1 Camaro: Honoring Those Who Have Fallen
Kelly Fromm is a veteran who retired in 2001, having served as a Staff Sergeant in the 82nd Airborne Division. Kelly created the "Veteran 1" Camaro pictured above to honor his friend, Sergeant Joseph Tutten and to get the word out about veteran's rights. The Veteran 1 Camaro is airbrushed in a patriotic and military-themed design and is regularly shown at gatherings of all kinds around the country. Our very own Brian Gini, had the opportunity to see Veteran 1 in action and was truly inspired by the Kelly's message and design.
For more info on the Veteran 1 Camaro, check out the video below:
---
Year-to-Date Safety Performance
Per OSHA, the term incidence rates means the number of injuries and illnesses, or lost workdays, per 100 full-time workers. These are our stats.
Keep up the good work team! Keep living our corporate value of Reliability!
---
Welcome Collins Electrical's Newest Director of Cuteness
To promote our corporate value of Family, Human Resources has developed a new corporate position. As such, please welcome Collins Electrical Company, Inc's newest Director of Cuteness: Harper Jane Niewald!
But seriously, please welcome the newest edition to the Collins Electrical and Niewald Family – Harper Jane Niewald. Harper Jane was born Monday May 15th at 8:11pm; weighed in at 6lbs, 13 oz; and measured 18.75″ long. Help us in congratulating Brie Niewald  (Payroll Supervisor at our Corporate Branch) and her family on their newest addition!
---
Length of Service Awards
Collins Electric values the contributions of all our employees. We aim to provide a platform for continued success, and we honor, safety, length of service, and loyalty, among other attributes. Loyalty is after all, one of our corporate values.
The Length of Service Award Program recognizes employees for their years of service, having demonstrated an exceptional ability of outstanding dedication, continuous performance and excellent customer service.
Metro Field Employees Jeremy Norton, Jose Martinez  and Daniel Pera have nearly 50 years combined experience as Collins Electric Employees. Recently, these three were awarded the Length of Service Award by Brian Gini and Chris Riley (General Superintendent).
Thank you, Collins Electric employees, for the commitment and passion you bring to the work every day. Collins Electric is honored that you chose to spend your career with us!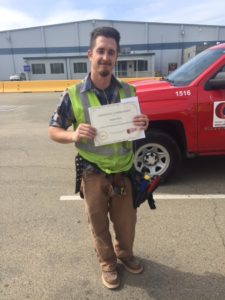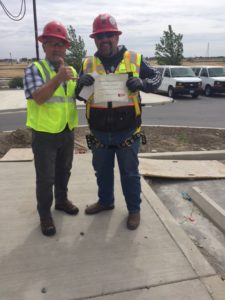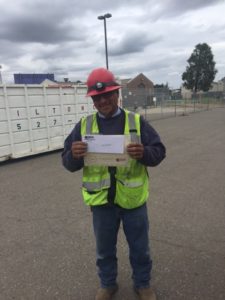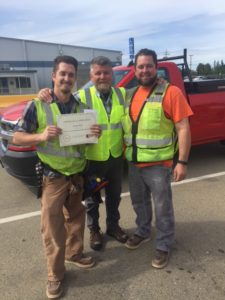 ---
Collins Selfies
Even though we work hard, we play hard too. Every week we'll show off a selfie of our most important resource: the Collins Electrical staff.
Check out all the Collins' Selfies by searching for the hashtag #collinsselfie on Facebook.
Do you have a #collinsselfie to share? Post them to our page using the hashtag #collinsselfie or email Elaine at EAlcones@collinselectric.com
Make sure to incorporate the Collins Electrical Logo in a creative and fun way!
top