Design Build Leadership
Getting Started in Design Build by Susan M. Casey
From Electrical Contractor Magazine August 2005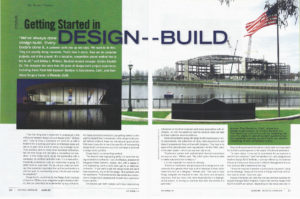 We've always done design-build. Everybody's done it. A customer calls you up and says, 'We want to do this.' They are usually doing remodels. That's how it starts. Now we do complete projects, out of the ground. It's a lucrative, competitive priced method that is fair to all," said Jeffrey L. Withers, Stockton branch manager, Collins Electric Co. The company has more than 20 years of design-build project experience, including Raley Field AAA Baseball Stadium in Sacramento, Calif., and Stanislaus Surgery Center in Modesto, Calif.
"The first thing that is important to understand is the difference between design-bid and design-build," Withers said. "Lots of times a contractor will come to us with a footprint for a building and some architectural plans and ask us to give them a bid on doing it as a design-build. They probably went to three other electrical contractors. We call that design-bid. It's really a competitive bid situation. In true design-build, we go into partnership with a contractor, an architect and other subs. It is a team effort. Everybody understands costs and where they're going. It's pretty much an open book. You lay out your costs and markups then everybody negotiates that up front and works to a common goal. In a contracting sense, it is the best method for everybody."
Design-build—as defined by the Design-Build Institute of America (DBIA)—is an integrated project delivery method, that can potentially be implemented by any contractor. For those electrical contractors just getting started or who want to expand their involvement in the design-build project delivery method, there are educational opportunities that make it possible to learn the specifics of incorporating design-build into business practices and ways to promote a design-build portfolio.
Design-build is a demanding method.
"You have to have engineering skills; it's more than being an electrical contractor," said Jim Mackey, president of Evergreen Power Systems, Seattle, who, with a degree in civil engineering, went to work years ago for an electrical contractor. "If you want to get into design-build and don't have experience, rely on the old adage, 'Hire someone who has experience.' Find someone who has worked as a consultant on design-build projects and include their experience in your profile."
Contractors can form liaisons with local engineering companies or electrical engineers and make associations with architects—all with the possibility that the contacts made can lead to future customer recommendations.
Electrical contractors going into design-build should research utility requirements, the jurisdiction of cities, state requirements and types of arrangements they can have with designers. They have to be aware of the subcontractors' work requirements—for the HVAC, audio or fire alarm system—which can vary from city to city.
"Conference centers with sophisticated Internet connections are popular now," Withers said. "We enlist quite a few voice-data or media subcontractors to help us."
It is also important to consult an attorney.
"Electrical contractors will get subjected to design-build subcontracts from generals that have a lot of loopholes in them about indemnification as a designer," Withers said. "You have to have things designers are required to have, like errors and omissions insurance. And you have a bit more responsibility in a [design-build] project, so having an attorney help with documents is a good idea."
Sources of requirement information include state licensing boards for architects and engineers or the boards of technical professions.
"In some states, it may not be permissible for an engineer to work for the contractor," said Thomas Glavinich, who designed and teaches Design-Build Methods, a seminar offered by the National Electrical Contractors Association's (NECA) Management Education Institute (MEI) (www.neca-mei.org).
"It may be required to provide a professional engineers' stamp on the drawings. These are the kinds of things electrical contractors need to know," Glavinich said.
Anyone interested can take the one-day seminar available by request through NECA chapters. Cost of the seminar ranges from $225 to $295 per person, depending on the venue site and involvement of the local NECA chapter.
"Our design-build seminar is an excellent example of the customization of a course that covers the basic elements of design-build with specific examples and issues that are particularly germane to our members," said Stuart Binstock, NECA, executive director, MEI.
The seminar provides a basic understanding of the design-build process and covers methods of procuring outside design services, design consideration and documentation, and the differences between design-build and traditional design-bid-build contracts.
It is also important for an electrical contractor to understand the importance of measurable performance criteria.
"With a bid contract, if the contractor installs per the plans and specifications, they are off the hook for performance. In design-build, they are responsible for both installation and performance. That's the big difference between the two," said Glavinich. "Let's say the owner says, 'I need a lighting system in this room.' You need to have quantifiable performance criteria. I recommend that contractors go to the standards like those of the Illuminating Engineering Society of North America (IESNA) that apply to the type of environment or room, to the system that will be used, to the age of the people using the room and so on.
"The standards list suggested foot-candle levels and the visual comfort probability index (VCPI). If the owner walks in at the end of the job and says, 'It's not what I thought I was going to get,' the electrical contractor can point to the agreed-upon criteria. The contractor can then work with the customer to make changes, but they are not financially responsible for the changes."
The DBIA also offers courses at various U.S. locations.
"Specialty contractors are critical to the design-build process, and many are already actively involved in DBIA," said Lisa Washington, vice president, education and conferences, DBIA. "Electrical contractors are not only eligible to take the classes, but they are also eligible for our designation."
The Designated Design-Build Professional is both for individuals in traditional careers (e.g., contractor, owner, design professional) and alternative careers (e.g., law, education, insurance). While it has education and experience requirements, the new Certificate of Mastery program does not. It is a way for individuals who take the courses to show that they have mastered the educational content of the courses.
Classes include Fundamentals of Project Delivery (1 day), Principles of Design-Build Project Delivery (1.5 days), and Design-Build Contract and Risk Management (1.5 days). Fees for the courses range from $325 to $450 for members. Nonmembers pay an additional $75 per course. Other fees apply for applications to programs and designations.
Some business practices can aid the design-build electrical contractor.
"You have to ask a lot of questions," said Lewis Weinstock, president, NECA Northern New Jersey Chapter, and president, Linear Electric Co. Inc., Rockaway, N.J. His company has been doing design-build for more than 20 years.
"Someone has to take the concept to paper so you have to know the needs and wants. You need to listen. It's a team effort—you, the client, and the engineer. I ask a lot of questions. I bring in catalogues to let them pick lighting fixtures. We recently did a job at Novartis Pharmaceuticals. There were standards in every building. Then there was a building that was unique and had other standards. So I had to ask lot of questions. Building the job is the easiest part."
While most design-build projects may come to electrical contractors from existing clients, some contractors are beginning to brand and identify their companies as design-build firms in order to expand their business. They include their credentials in a company brochure or on a company Web site.
If your company doesn't have a brochure or a Web site, and you want to develop one, do not fret. NECA's latest effort is development of the Think NECA Marketing Toolkit. The member toolkit is available to NECA members through the online NECA store or supplied to workshop participants at half-day workshops offered through local NECA chapters. The kits include information about tools and strategies to expand business opportunities and marketing efforts, including prospect identification and Web site development. The toolkit was developed in a pilot project done by the Northern California NECA Chapter in Pleasanton, Calif., in conjunction with Collins Electric Co. Inc.
"We understand that our members aren't marketing experts," said Rob Colgan, executive director of marketing, NECA. "We've tried to provide tools that electrical contractors can use in a direct, step-by-step way to market their services and promote more profitable business for their companies." EC