Energy Services
Collins Electrical can provide energy usage optimization and energy efficiency review services to new and existing buildings.
With today's limited resources (economic and natural), efficient consumption of electrical utility is a priority. Efficient and non-wasteful energy usage, not only saves costs, but also reduces the impact we have on our natural environment. Collins can provide energy review services to get your business "green" and save you green!
Solar Photovoltaics (PV)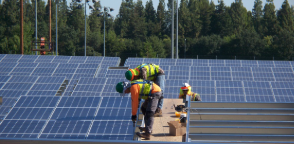 Collins Electrical Company is one of the leading contractors in the large scale Photovoltaics (PV)
electrical energy production system installations in California.
Photovoltaics (PV) is a method of generating electrical power by converting solar energy to electrical energy. Due to an increased demand for energy, photovoltaic systems and components have changed and advanced considerably in recent years. Collins Electrical has highly trained technicians that stay ahead of this fast changing technology in order to engineer, manage and install these systems