30 Years of Service Award
Recognition of a Collins Employee
---
30 Years of Service Award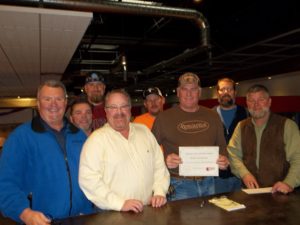 Join us in congratulating Mark Thompson on 30 years of continuous service with Collins Electrical Company, Inc. Last Thursday, February 9th, staff presented a certificate of appreciation to Mark Thompson for his years of dedication and commitment to Congratulate Mark!
Mark Thompson started his electrical career with Collins Electrical as an apprentice and today is the Project Executive from our Metro Branch.
Congratulations Mark!
---
Recognition of a Collins Employee
On Friday February 10, 2017 Brian Dow was given a recognition for a job well done by Sonora High School and Principal Ben Howell:
My name is Ben Howell,

I am the principal of Sonora High School. I am forwarding this letter of recommendation and thank you to Collins Electrical and to your employee Brian Dow.

It was a pleasure working with Brian on my school site. I was pleased with his open communication, his flexibility, and his pursuit to get the job done well and right the first time.
Brian has always been considered one of Collins Electrical's great assets and does have a wonderful social presence.
One other characteristic of Brian that we are proud of is his dedication to his family and everything he does.
However, I wasn't so proud of him at our Christmas dinner when he one-upped me in his leisure suit.
– Brian Gini