In this issue:
New Hires
Employee Testimonials/ Leadership Training with Amanda King
Gene's Gems
It's Collins' Selfies!

---
New Hires
Give a warm welcome to the newest members of the Collins family!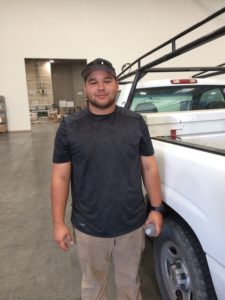 John Therrin (JT) joins the Collins team as the Metro branch's newest warehouse driver. Welcome, JT!
"The Solar Department is pleased to announce the hiring of our newest team member & Solar Project Coordinator, Lori Holman.  Lori is already learning lots and ready to jump in wherever she can be helpful!  That's the kind of spirit we like in our department"  –Craig Gini (VP/Renewables Manager)
---
Employee Testimonials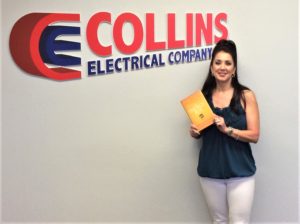 "Our branch was invited to participate in Leadership training with Amanda King. I heard so many great things about Amanda but nothing compared to meeting her. Her energy and positive attitude is infectious. In Amanda's training, I learned so much about myself and how I can handle difficult situations. Her leadership training has brought our team together and taught us strategies to handle adverse circumstances.

She shared ways to improve our teams' leadership through dynamic communication, which includes both verbal and listening skills. Dynamic communication has allowed us to openly discuss issues during our team meetings, and share ideas to resolve them. We also learned that good leaders manage their time well and delegate task by being mindful of people's strengths and weaknesses.  By doing so, a job or project will have better results.

Amanda recommended The Energy Bus, by Jon Gordon, to fuel our team and our own selves with positive energy. Gordon writes that there is negativity all around us and calls them "Energy Vampires." They will drain your energy if you allow it. It's our  job to eliminate it.  We all have been in a difficult situation, but according to Gordon, "every crisis offers an opportunity to grow stronger and wiser." This book is a tool to teach how to build positive energy in any situation.

Two of my favorite quotes from the book are: 'You haven't failed until you stop trying' and 'our thoughts are magnetic, what we think we attract'.

It's always a pleasure when Amanda visits. She shares her knowledge and fuels our team to become better leaders."

–Deborah Summers, Assistant Project Manager from Dublin Branch
---
Gene's Gems
Corporate Value of the Week: Social Consciousness
Collins knows the importance of being socially conscious and making oneself aware of the lives of others. For National Ice Cream Day, the Collins team at the Corporate/Metro branch came together to enjoy some ice cream and the company of one another!
---
Collins Selfies
Even though we work hard, we play hard too. Every week, we'll show off a selfie of our most important resource: the Collins Electrical staff.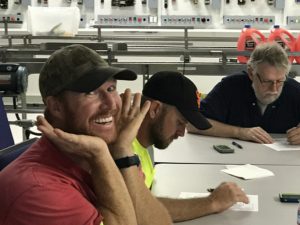 Kyle Ensminger, Foreman at our Metro Branch, looking fabulous for the camera!
Gene and Dianne Gini at our Corporate/Metro Branch Ice Cream Social last Friday, July 14th.
Check out all the Collins' Selfies by searching for the hashtag #collinsselfie on Facebook.
Do you have a #collinsselfie to share? Post them to our page using the hashtag #collinsselfie or email Elaine at EAlcones@collinselectric.com.
Make sure to incorporate the Collins Electrical logo in a creative and fun way!
top