In this issue:
New Hire
What Have the Branches Been up to?
Branch Pursuits
Leadership Training Testimonial
Gene's Gems
It's Collins Selfies

---
NEW HIRE
New to the Corporate Branch, Jennifer Ortega joins us as our new Payroll Administrator. From city girl to country girl, Jennifer was born and raised in San Francisco and just recently moved to her new home in Angels Camp. Her prior work experience includes payroll administration but before that she worked as a flight attendant for Virgin America traveling all over the world. Jennifer and her husband have been married for almost three years and have a Morkie (half maltese/half yorkie) named "Gypsy".  Since they have moved to Angels Camp they have been enjoying taking hikes, going to the lake, & touring and tasting at the local wineries.
Welcome to the Collins Team, Jennifer!
---
WHAT HAVE THE BRANCHES BEEN UP TO?
Metro Branch:
Apprentices getting it done at Pactra! Dan Pera, Foreman (not pictured) rallied his troops to install a new 600A board during a PG&E shut down. Pictured L-R: David Ellsworth, Juan Jimenez, & Boontham Manyvorn.

UC Merced 2020 – Academic Walk
What a difference a year can make!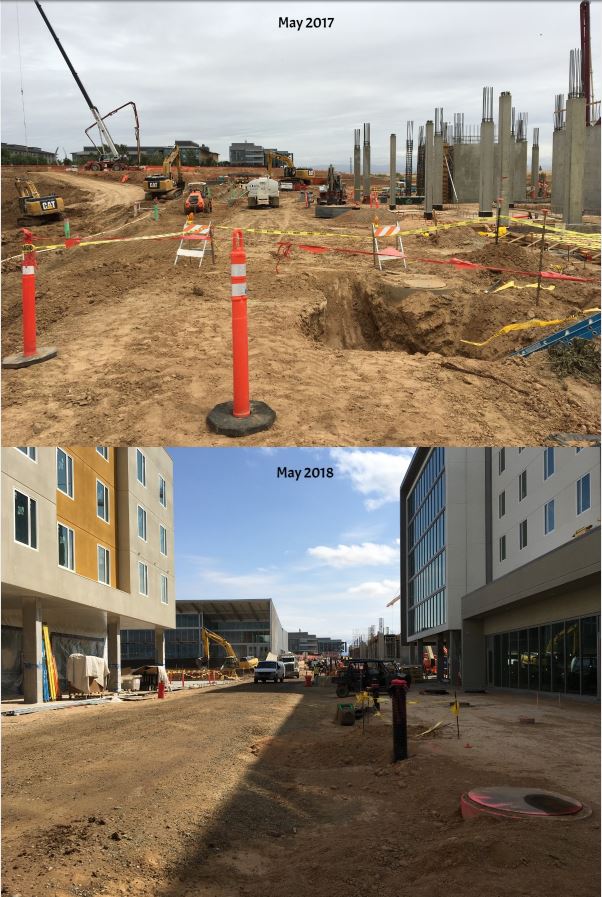 Cool Port Oakland – estimated completion August 2018
  Pictured from L-R:  photobomb from our subcontractor – TDW, Primo Jose, Darryl Hampton, 5th year Apprentice 595, Alan Brady, Journeyman 595, Ignacio Rodriguez, 4th year Apprentice 595.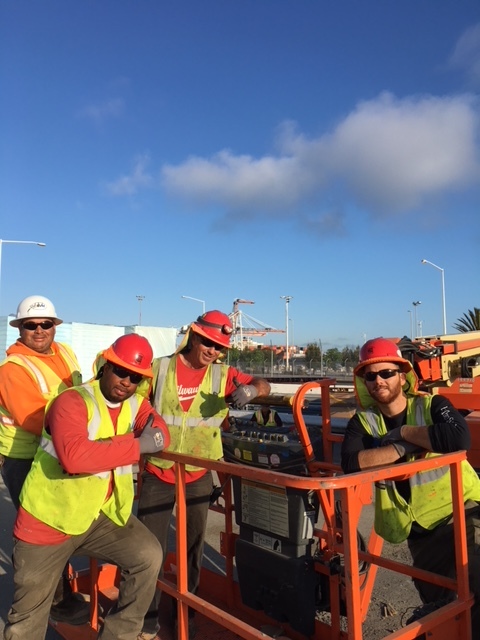 CSD Administration Building Remodel
SB1022 Classroom and Vocational Training Center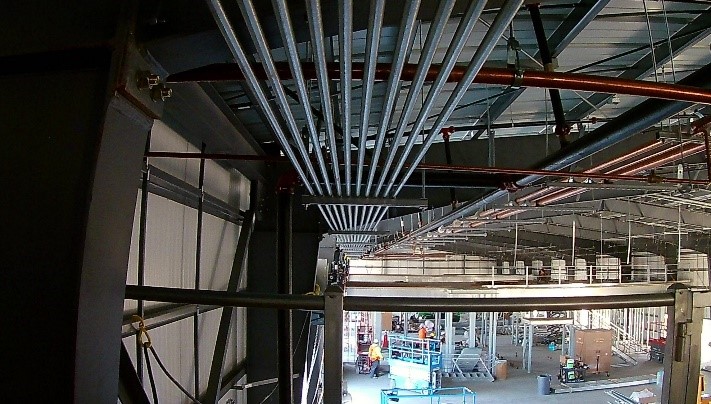 Corporate Branch:
Charles and Krish hard at work trying to bootup the 3rd VM server which went down after power outage. See, our IT guys do more than just play pool & foosball on their breaks! Hahaha! 🙂
---
BRANCH PURSUITS
Sacramento Branch Bid Schedule:
Marina Branch Bid Schedule:
Featured Project Bidding – Capitola Branch Library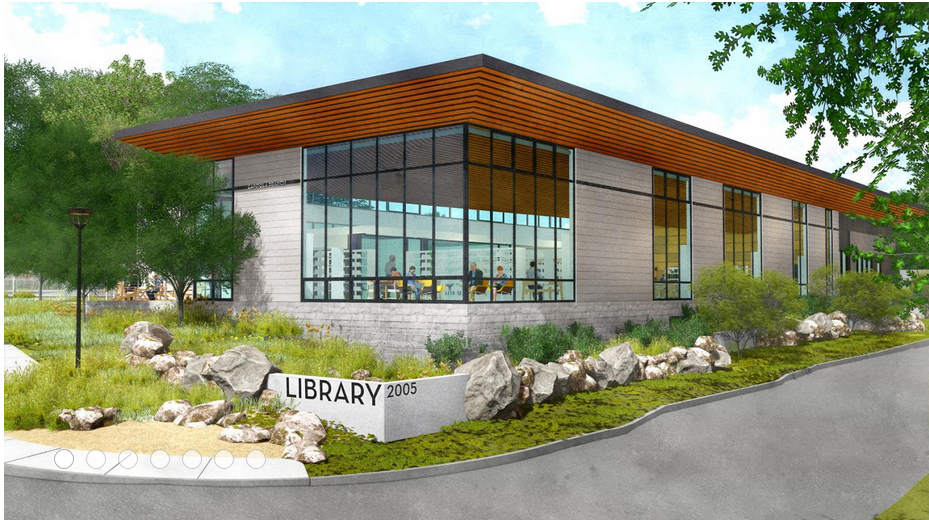 (Renderings of the proposed Capitola Branch Library – Noll & Tam Architects)
"Reminiscent of the hull of a boat, the design of the new Capitola Library Branch library envisions a flexible, modern library unique to Capitola. Given the City's natural setting and beauty, the design incorporates quiet, outdoor reading spaces and a pedestrian connection to the nearby creek. With a serene, light-filled reading room and a vibrant children's area. The building responds to the results of a robust community process that arrived at a building design that is right for Capitola now and into the future." – Noll & Tam Architects
This is a new construction of an 11,700 SQ FT, single story library. Located in Capitola, CA.
EXCITING CORPORATE ESTIMATING NEWS
We recently received the Notice to Award for the Ceres USD Prop 39 Energy Efficiency Phase 3 Project. In addition we are the apparent low for the John C. Fremont ES Modernization Project for the Merced City School District. We await Merced City School District's board meeting to approve Collins Electric's bid. Both of these projects will begin this summer and will finish up before school's back in session. Congratulations to Nabieha, Jorge, and Dustin! Great Job!
---
LEADERSHIP TRAINING TESTIMONIAL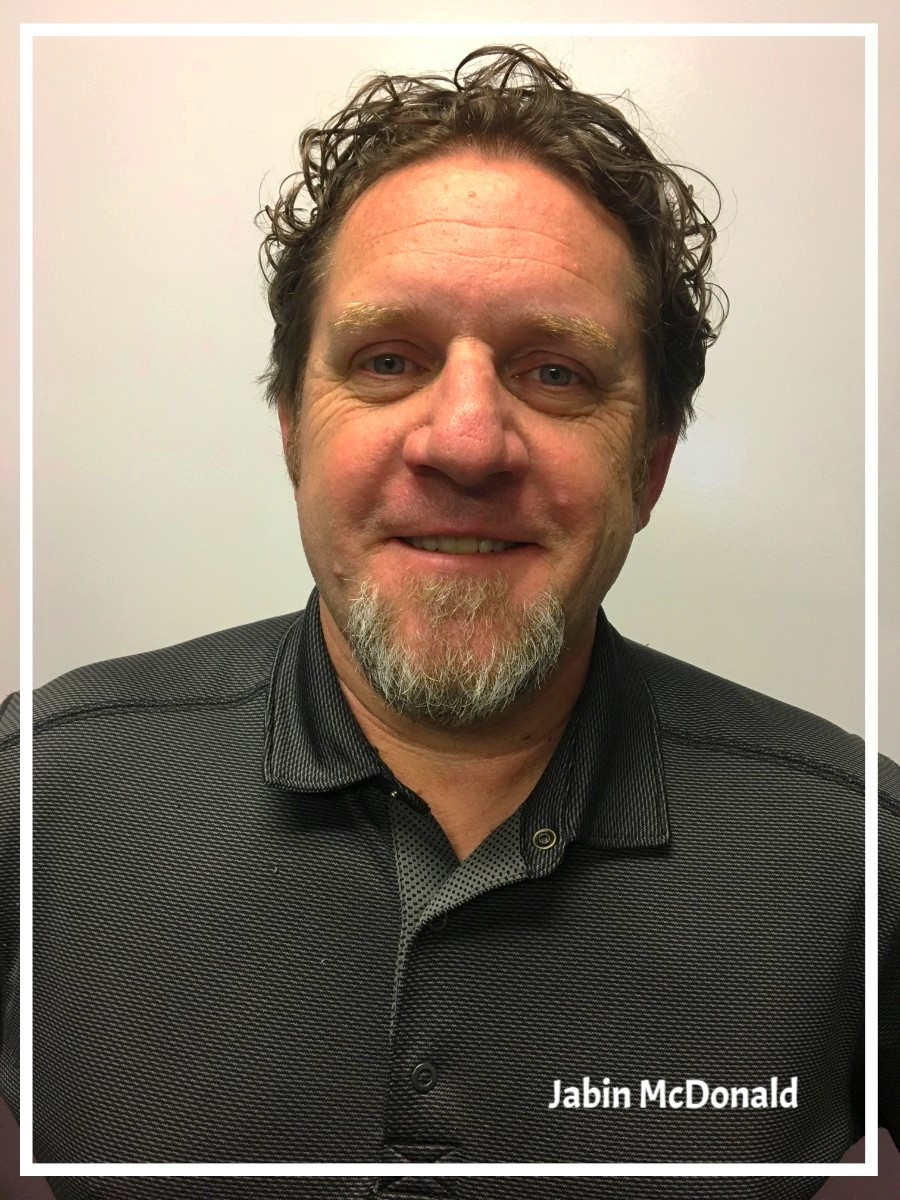 The vast majority of us that rise through the ranks of construction and find ourselves in a management/leadership position get there by working hard, working smart, and a bit of luck. I would venture to say that few construction managers have undergone formal management education; rather, we end up in a position of mediocre power trying to balance our workloads, the training of those who will someday take over our jobs, and overseeing our support staff.
One of the most impressive discoveries for me after joining the Collins Electrical team was the integration of leadership training, facilitated by Amanda King, for all levels of management. Our Leadership meetings and the training provided are extremely valuable to me by improving communication within our departments and creating a culture of transparency and collaboration. Time is dedicated for all of us managers to get together with Amanda and discuss what's happening within our departments and the company as a whole. These meetings provide us a venue to express wins, concerns, wants, needs, and desires for our career and work environment. We have been taught the skills and value in creating a team environment, concise communication, and finding positive attributes in our coworkers instead of focusing on the negative. This ultimately improves morale, which in turn, enhances performance. The leadership training provided by Collins Electrical Company, Inc. shows that our company values us, their employees.
---
♢♢♢ GENE'S GEMS ♢♢♢
Core Value of the Week: INNOVATIVE
---
COLLINS SELFIES
Even though we work hard, we play hard too. Every week, we'll show off our most important resource: the Collins Electrical staff.
This week, we introduce to you…Steve Norman, Journeyman (Local 595)& Louisa Lemos, Foreman (Local 595)
DON'T FORGET TO SEND IN YOUR SELFIES!
Check out all the Collins' Selfies by searching for the hashtag #collinsselfie on Facebook.
Do you have a #collinsselfie to share? Post them to our page using the hashtag #collinsselfie , text Melissa at 209.485.0150, or email Melissa at MFlores@collinselectric.com
Make sure to incorporate the Collins Electrical logo in a creative and fun way!
FOLLOW US ON FACEBOOK @ COLLINS ELECTRICAL COMPANY, INC. & INSTAGRAM @ COLLINS.ELECTRICAL